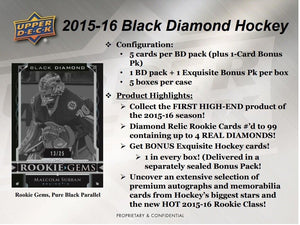 2015/16 Upper Deck Black Diamond Hockey Sealed Hobby Box
FREE SHIPPING WORLDWIDE
Configuration: 1 pack + 1 Exquisite Bonus pack per box. 5 cards per pack.
PRODUCT HIGHLIGHTS
- Collect the FIRST HIGH-END product of the 2015-16 season!
- Contains the FIRST-EVER hockey Rookie Cards featuring actual DIAMONDS!
- Every 2015-16 Diamond Relic Rookie Card will be limited to a mere 99 serial #'d copies per card!
- Each card will feature between one (1) and four (4) REAL DIAMONDS depending on the level of prospect!
- Chase rare Yellow (#'d to 5) and Black (#'d to 1) Diamond parallels of every player!
- The REAL DIAMONDS don't stop with the Rookies!
- Find a flashback Quad Diamond Rookie Relic of Wayne Gretzky #'d to 99!
- Also look for a selection of up to 50 veterans with Diamond Relic cards #'d to 5!
- Plus Black Diamond Parallel 1-of-1's!
- Diamond cards combine to fall 1 per shipper, on average!
- (BONUS) EXQUISITE HOCKEY Pack!
- Every box will contain a 1-card bonus pack of Exquisite Hockey!
- This is the first chance to collect Exquisite Hockey cards which will be distributed throughout the 2015-16 Upper Deck Hockey calendar!
- Pull an amazing array of 2015-16 Rookies and premium memorabilia!
- Uncover an extensive selection of premium autographs and memorabilia cards from Hockey's biggest stars and the new HOT 2015-16 Rookie Class!
- Look for additional chase cards including:
- Booklet Relics
- Championship Rings
- Team Logo Jumbos
- Retired Numbers
- And so much more!