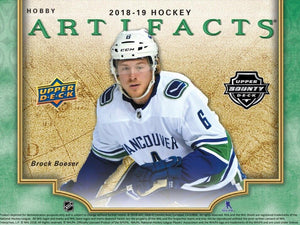 2018-19 Upper Deck Artifacts Hockey Sealed Hobby Box
FREE SHIPPING WORLDWIDE
Configuration: 8 packs per box. 4 cards per pack.
- 2018-19 Artifacts delivers Big Box-Level Value at a fraction of the price.
- NEW ROOKIE CLASS! Find 2018-19 Top Prospects Rookie Redemption cards for Rookies that debut in the 2018-2019 season.
- Including a full array of serial numbered, memorabilia and auto-memorabilia variartions, and even a 1-of-1 Black Foil Patch-Tag Auto.
- Look For Some Great Holdover Rookies including Casey Mittelstadt, Ryan Donato, Adam Gaudette and Eeli Tolvanen.
- NEW! Participate in Artifact's 2nd Bounty Mission by collecting the 48-card Aurum Bounty set and earn unbelieveable achievement cards.
- NEW! Collect the all-new Threads of Time memorabilia cards celebrating the tenures of select NHL Superstars and Legends with rare premium material parallels including patch, stick and tag.
- NEW! Find Le Bleu Blanc Rouge Remnants insert cards featuring actual remnants from the legendary Montreal Forum stadium.
- NEW! Watch for Esteemed Endorsements hard-signed autograph cards from retired legends along with career defining inscriptions.
- Back by Popular Demand! Look for the return of Top 12 Signatures (1:1120) plus 2017-2018 Updates!
- The Honoured Hopefuls insert returns for the second year featuring memorabilia and signatures of the top veteran superstars bound for Hall of Fame glory (limited to 27 serialed numbered copies per card).
- Look for Year One Rookie Sweaters cards featuring jersey and premium series swatches from actual rookie-season worn, game-used jerseys.
- Back by Popular Demand! Tundra Teammates Duos and Tundra Teammates Quads return featuring dynamic upgrades to each tier, shifting from jersey to premium memorabilia!
- 1 Rookie Redemption Autograph card
- At least 8 Aurum Bounty cards
- 3 Autograph, Memorabilia or Aurum Bounty cards
- 1 Rookie Redemption card
- 4 Serial Numbered cards
- Including 1 card #'d to 99 or less