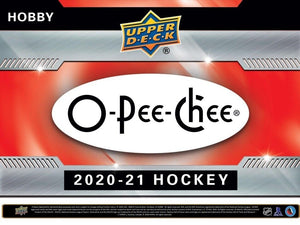 2020/21 O-Pee-Chee Hockey Sealed Hobby Box
FREE SHIPPING WORLDWIDE
Configuration: 18 packs per box. 10 cards per pack.
PRODUCT HIGHLIGHTS
- Sporting a robust 600-card base set, O-Pee-Chee perennially features the most comprehensive single-season Hobby set in hockey. The base set includes a high-series subset featuring 30 Marquee Rookies, 20 Marquee Legends, 31 Team Checklists, 10 Season Highlights and nine Team Leaders. 2020-21 O-Pee-Chee also boasts two base set parallels and two base set variations:
- Retro Variation (1 in every pack, on average)
- Blue Border (1:3)
- Red Border (1:18)
- Hobby Exclusive! Retro Variation - Black Border (#'d to 100)
- Hobby Exclusive! The O-Pee-Chee Playing Cards are back, falling at a rate of three per box, on average.
- New! Look for the 50-card O-Pee-Chee Premier Tall boys insert set falling four per box, on average. Keep an eye out for a variety of SP's and other surprises!
- The popular O-Pee-Chee Patches insert returns featuring 100 all-new manufactured patch cards, many featuring your favorite players - past, present and future. The insert also includes 10 rare Logo Update patches and two super rare Mascot patches, among others.
- New! The #1 Draft Pick Puzzle Bounty insert will have collectors on the hunt to complete the nine-card puzzle set. Those that do will be rewarded with highly-sought after bounty prize cards of the #1 pick in the 2020 NHL Entry Draft.
- Hot Boxes & Super Boxes! Keep an eye out for these special, super rare Hobby boxes. In each Hot Box, one regular base card is replaced with a Retro Variation - Black Border Parallel card. In each Super Box, every base card is replaced with these serial-numbered cards!
- Chase Card Alert! Lucky collectors will find a rare OPC Glossy Rookie Phenoms Complete Set Redemption card which can be redeemed for the complete nine-card OPC Glossy Rookie Phenoms set featuring the nine best 2020-21 rookies!