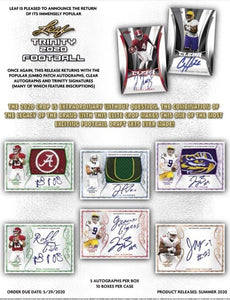 2020 Leaf Trinity Football Sealed Hobby Box
FREE SHIPPING WORLDWIDE
Configuration: 1 pack per box. 5 cards per pack.
Leaf is pleased to announce the return of its immensely popular 2020 Leaf Trinity Football. Once again, this release returns with the popular Jumbo Patch Autographs, Clear Autographs and Trinity Signatures (many of which feature inscriptions).
The 2020 crop is extraordinary without question. The combination of the legacy of the brand with this elite crop makes this one of the most exciting football draft sets ever made!